It was a rocky road to get there, but seeing you all so excited, happy and grateful was worth all the effort.
Still under the conditions of the pandemic and under the impression of the military invasion in Ukraine, you have made this EMIM a flagship for friendship, peace and scientific exchange! The exclusive in-person EMIM 2022 took place from 15-18 March in beautiful and vibrant Thessaloniki, Greece.
After the pandemic-caused cancellation of the EMIM 2020 in Thessaloniki, we were so very happy to be finally back. Thanks for joining this adventure, for your trust, dedication, and patience, for all your efforts to come to Thessaloniki. It has been another challenge and experience for the society and certainly shows the particular dedication of the community.
Photos, Abstracts, Awardees
Programme at a glance
Plenary Lectures
SIMON CHERRY, UC Davis
Total-Body PET: A new tool for systems medicine
CAROLA BIBIANE SCHÖNLIEB, Cambridge
From variational modelling to deep learning for biomedical imaging
VALENTINA EMILIANI, Paris
Holographic manipulation of neuronal circuits
AXEL MONTAGNE, Edinburgh
Prediction of cognitive decline using contrast MRI
RALPH WEISSLEDER, Boston (ESMI Award 2022)
Imaging Beyond Current Possibilities
FLORIS VOSKUIL, Groningen (ESMI PhD Award 2021)
Clinical application of near infrared fluorescence imaging in solid cancers -Improving surgical accuracy by lighting up tumors
+ four YIA finalists – see right hand side
Parallel Sessions & Titles
24 Parallel Sessions were filled with your abstract submissions, each one started with an introductory lecture giving an update on the state-of-the-art research in that field – a particular thanks to all INTRODUCTORY SPEAKERS!
| | |
| --- | --- |
| ID | Session Title |
| PS 01 | Understanding Tumour Biology |
| PS 02 | Micro- and Macroscopic Optical Imaging Technologies |
| PS 03 | Mechanisms of Remodeling in Cardiac/Pulmonary Diseases |
| PS 04 | Imaging Metabolism |
| PS 05 | Image-guided Therapy | Preclinical |
| PS 06 | New Methods & Cross Modal Neuroimaging |
| PS 07 | Imaging of Infections & Immune Responses |
| PS 08 | Radiomics, Machine Learning & Artificial Intelligence |
| PS 09 | Theranostics &Therapy Monitoring |
| PS 10 | Ultrasound & Optoacoustic Technologies |
| PS 11 | PET/SPECT & X-Ray Probes |
| PS 12 | Tissue Characterization by different Imaging Strategies | late-breaking |
| PS 13 | New Tools for Cancer Imaging |
| PS 14 | Functional Neuroimaging |
| PS 15 | Systems Biology of Cardiac/Pulmonary Diseases |
| PS 16 | MRI, Optoacoustic, US & Multimodal Probes |
| PS 17 | Functional Brain Imaging | late-breaking |
| PS 18 | Optical Probes |
| PS 19 | X-Ray based Technologies |
| PS 20 | Image Processing, Segmentation & Quantification |
| PS 21 | Immuno-Oncology |
| PS 22 | Translational Image-Guided Surgery |
| PS 23 | MRI & Hyperpolarization Technologies |
| PS 24 | Anatomical, Microstructural & Metabolic Neuroimaging |
Parallel Sessions filled with original work
Educational Sessions
ES 01 | Synthesis of Probes per Modality
by Mónica Carril, Bilbao & Jason Holland, Zurich
ES 02 | Optics & Ultrasound Technologies
by Mickael Tanter, Paris & Daniel Razansky, Zurich
ES 03 | Standardization in small animal Imaging
by Adriana Tavares, Edinburgh & Geoff Warnock, Zurich
ES 04 | Cardiovascular Imaging
by Jessica Bastiaansen, Lausanne & Daniel Stuckey, London
Study Group Sessions
X-ray/Lung Imaging Study Group
Cardiovascular Imaging
Oncoimmunology & Therapy
Standardization of Small Animal Imaging
Molecular Neuro-Imaging
Hyperpolarized Magnetic Resonance
Image-Guided Drug Delivery
Intra-Operative Imaging
Learn more about the ESMI Study Groups
EMIM 2022 Poster Sessions
Two Poster Sessions were scheduled with no competitive sessions in parallel. In 21 thematic poster walks, 218 posters were presented. Each of the poster walks was chaired by two chair persons and resulted into an EMIM 2022 poster award.
Thanks for your participation & support!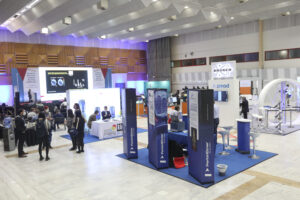 EMIM 2022 in Numbers
610 Participants
253 Talks
106 Session Chairs
218 Poster Presentations
21 Thematic Poster Walks
42 Poster Chairs
10 Plenary Lectures
8 Study Group Meetings
4 Focus Sessions
24 Exhibitors
478 Reviewers
5512 single scores
425 Abstracts, each reviewed by an average of 12.97 reviewers
(…)
young investigator award 2022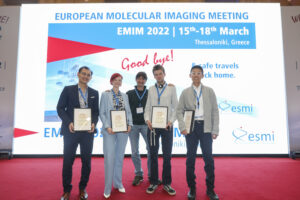 The YIA 2022 was presented to:
TianDuo Wang from London, Canada for his work on "Visualizing cell-cell communication using synthetic notch activated magnetic resonance imaging"
The further YIA finalists:
Oscar Demeulenaere from Paris, France on "3D Ultrasound Localization Microscopy in vivo imaging of the rat coronary microvasculature"
Sophie Stotz from Tübingen, Germany on "A Covalent 18F-labeled Radiotracer for Reporter Gene Imaging of Viral Gene Transfer in the Brain"
Weiye Li from Zurich, Switzerland on "Tracking Strain-Specific Murine Skull Bone and Vessel Development with Large-Scale Ultrasound and Optoacoustic Microscopy"
CONGRATS to all four of you not only for presenting your your excellent work but also for the joy you brought and the nice interaction!
The YIA 2022 was kindly supported by BRACCO Imaging spa!
ESMI PhD Award
The ESMI Award for excellent PhD thesis was presented to Floris Voskuil from Groningen for his work on "Clinical application of near infrared fluorescence imaging in solid cancers -Improving surgical accuracy by lighting up tumors".