Young Investigator Award 2022
The finalists for the Young Investigator Award 2022 were selected from the excellent abstract submissions. Out of 82 applications, these four were selected as finalists based on the extensive review outcome. Oscar, Sophie, TianDuo, and Weiye presented their work during the dedicated YIA Plenary Lecture.
The YIA 2022 was presented to:
TianDuo Wang from London, Canada for his work on "Visualizing cell-cell communication using synthetic notch activated magnetic resonance imaging"
The further YIA finalists:
Oscar Demeulenaere from Paris, France on "3D Ultrasound Localization Microscopy in vivo imaging of the rat coronary microvasculature"
Sophie Stotz from Tübingen, Germany on "A Covalent 18F-labeled Radiotracer for Reporter Gene Imaging of Viral Gene Transfer in the Brain"
Weiye Li from Zurich, Switzerland on "Tracking Strain-Specific Murine Skull Bone and Vessel Development with Large-Scale Ultrasound and Optoacoustic Microscopy"
Poster Awards 2022 – the Winners
Poster Session I
PW01 Immuno-Oncology
Julia Gevaert, London Canada – Assessment of sensitivity and resolution for novel dendritic cell tracking with magnetic particle imaging
PW02 Therapy Monitoring
Lorena Consolino, Aachen – Monitoring drug targeting and tumor microenvironment remodeling upon tamoxifen therapy in triple negative breast cancer
PW03 New Tools for Cancer Imaging
Amélie Godard, Dijon – Investigation of Wazabys vectorization for NIR-II Imaging of cancer
PW04 Functional Neuroimaging
Monica van den Berg, Antwerp – Whole brain and local hippocampal alterations in network function in TgF344-AD rats
PW05 Anatomical, Microstructural & Metabolic Neuroimaging
Tor Memhave, Göttingen – Uncovering the impact of a lithium-enriched diet on healthy, wild-type mice using multinuclear magnetic resonance spectroscopy
PW06 Image guided invterventions and drug delivery
Anne van der Waaij, Groningen – Fluorescence molecular endoscopy using cetuximab-800CW to evaluate the response to neoadjuvant chemoradiotherapy in locally advanced rectal cancer: preliminary results
PW08 MRI & Optical Probes
Lydia Martínez-Parra, San Sebastián – Developing new contrast agents for atherosclerosis diagnosis
PW09 X-Ray based Technologies
Florence Muller, Ghent – IdenPerformance evaluation of the X-CUBE, a micro-CT system for laboratory animal imaging with iterative reconstruction capabilities
PW10 MRI Technologies
Vencel Somai, Cambridge – Optimal control pulse design as a low power alternative to BIR4 excitation pulses
PW11 Hyperpolarization Technologies
Frits van Heijster, Munich – Observation of prolonged T1-relaxation of hyperpolarized 13C-substrates using PHIP when compared to dDNP
Check abstracts of poster session 01 here
Poster Session II
PW13 Understanding Tumour Biology
Silvester Bartsch, Vienna – Non-invasive molecular subtyping in breast cancer with non-contrast-enhanced multiparametric MRI hypoxia imaging
PW14 Theranostic Appliations
Beatrice Ludwig, Munich – Radiosensitization of αvβ6 overexpressing tumors using a ferrocene-peptide conjugate
PW15 New Methods & Cross Modal Neuroimaging
Manuel Navarro-Oviedo, Caen – Non-invasive detection of endothelial activation by Molecular Magnetic Resonance using Iron Oxide Microparticles: Cerebral Vasculitis experimental model development
PW16 Cardiovascular & Pulmonary Imaging
Laura Seldeslachts, Leuven – µCT to visualize and quantify COVID-19 vaccine efficiency in free-breathing hamsters
PW17 Immunology & Infection
Adrian Buehler, Erlangen – Optoacoustic imaging protocol for in vivo characterisation and differentiation of inflammation and fibrosis in murine colitis
PW18 Imaging Metabolism
José Herance, Barcelona – Phenotyping type 2 diabetes in terms of myocardial insulin resistance and its potential cardiovascular consequences: a new strategy based on 18F-FDG PET/CT
PW19 PET/SPECT & X-Ray Probes
Loren Deblock, Ghent – Mapping out the aqueous surface chemistry of metal oxide nanocrystals, from fundamental insights to micro-CT imaging
PW20 Optoacoustic, US & Multimodal Probes
Jean-Baptiste Bodin, Orsay – Biocompatible and photostable photoacoustic contrast agents based on BODIPY-scaffold and polylactide polymers: synthesis, formulation, photoacoustic characterization and in vivo evaluation
PW21 Micro- & Macroscopic Optical Imaging Technologies
Sarah Schraven, Aachen – Fluorescent dye labeling strongly influences tumor accumulation and biodistribution of polymeric drug carriers
PW22 Optoacoustic, US & Multimodal Technologies
Nourhan Shalaby, London Canada – Trimodal Tracking of Mesenchymal Stem cells (MSCs) with Magnetic Particle Imaging (MPI), Bioluminescence Imaging (BLI) and Positron Emission Tomography (PET)
PW23 Image Processing, Harmonisation & Quantification
Baoru Huang, London – Self-supervised monocular laparoscopic images depth estimation leveraging interactive closest point in 3D to enable image-guided radioguided surgery
Annual Society Awards
ESMI Award 2022
The ESMI Award is presented to an excellent scientist for her/his outstanding long-term contribution to the multidisciplinary research in Imaging Science.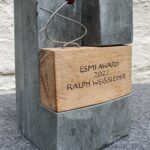 The society's prestigious award 2022 is presented to RALPH WEISSLEDER, Boston. Ralph gave a Plenary Lecture at the EMIM on "Imaging beyond current possibilities".
ESMI PhD Award 2021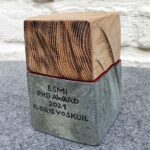 The ESMI Award for excellent PhD thesis was presented to Floris Voskuil from Groningen for his work on "Clinical application of near infrared fluorescence imaging in solid cancers -Improving surgical accuracy by lighting up tumors".