Advancing Careers of Early-Stage Imaging Scientists in Academia
made by and for early career imaging scientists
Application period for the cycle 2023/24 is closed – sorry!
The Concept
The ESMI Mentoring Programme is based on a self-organized one-to-one mentoring (see Tandem* below) accompanied by ESMI-organized actions involving the mentee-peer-group and certain workshops.
Target Group
Early career imaging scientists in academia who aspire a career in academia –
3rd year PhD to 3rd year postDoc
Duration
One year of arranged mentoring (August 2023 to August 2024)
Group Size
Five seats per year are available
Main Pillars
Mentee-Mentor Tandem*
Mentee Peer-Group
Centrally organized Workshop
Application Documents
Applications for the term (2023/24) were accepted between 13 June and 11 July 2023.
You are an early career imaging scientists in academia (3rd year PhD to 3rd year postDoc)
You are a member of the ESMI
The following documents need to be provided within the application period:
Short bio (tabular CV)
Motivation letter
(max. one page, this can include e.g. expressing the need for mentoring, current work/life situation, reflections/thoughts on future career path, possible hurdles, addressing initial questions,…)
List of publications so far
The filled application form (template):
Mentee-Mentor Tandem
A Tandem is defined as an independent and confidential professional alliance free of hierarchy between an early-stage imaging scientist (Mentee) and the more experienced person (Mentor). This alliance forms a one-to-one partnership with a specific mandate (e.g. define aims and decision-making processes, develop a career strategy, set up a research group, transfer faculty-specific knowledge and skills).
The Mentee receives primarily
Feedback and advice on career planning in academia taking into account the individual life context and skills.
Individual support and inspiration with respect to the strategic development and effective realization of her/his scientific, academic career.
Knowledge, contacts, and formal as well as informal rules of the game with respect to working in science and academia.
Support in reflecting on personal skills/competences and strengths.
Mentoring Tree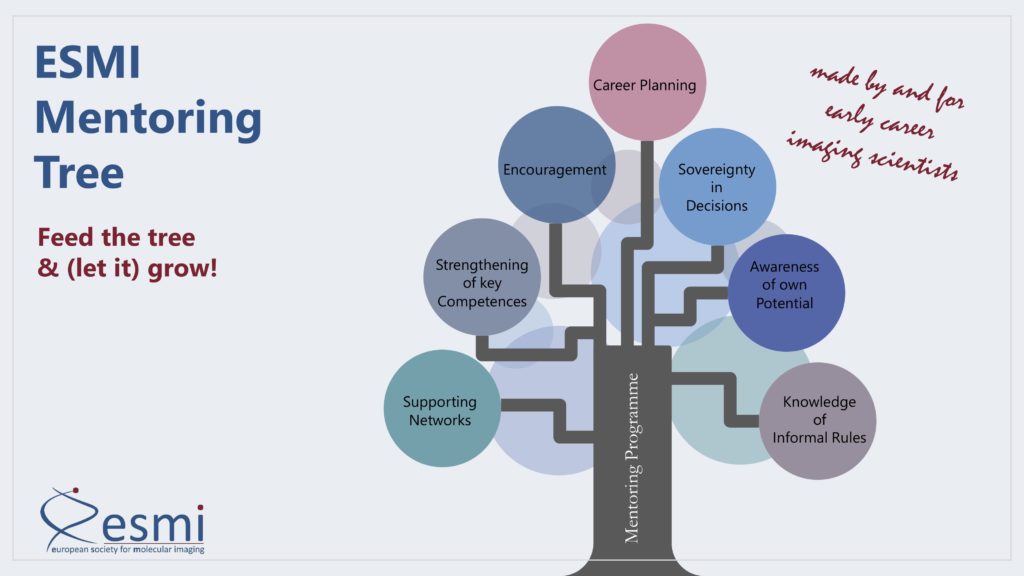 Timeline 2023/2024
Application period
13 June – 11 July 2023
Interviews
CW 31 (1 & 3 August 2023)
Introductory Workshop for Mentees
28 August 2023
Matching Process finalised
August 2023
Introductory Workshop for Mentors
September 2023
First Tandem Meeting
September 2023
ESMI Coordinating Committee
Frauke Alves, Göttingen – Chair
Doris Kracht – ESMI Executive Director
Dario Longo, Torino – ESMI Board
Sophy Poty, Montpellier – French youngESMI
Beatriz Salinas, Madrid – Spanish youngESMI
Roger Schibli, Zurich/Villigen – ESMI Board
Marlene Wiart, Lyon – ESMI Board
Opportunities for Mentees
Analysis of current career and future perspectives in academia
Self-reflection and self-confidence
Confidence in decision making processes
Visibility and positioning in the scientific community
Raising awareness for structural barriers
Access to information and career-relevant networks
Opportunities for Mentors
Transfer of knowledge and experience
Reflection of own career path
Improvement of advisory skills and competence
Positive experience of role as leader
Enlargement of network also through Mentor-Group
Add-on to CV