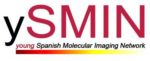 The young Spanish molecular imaging network – ySMIN is a pioneering molecular imaging community in Spain that aims to promote the formation of a network of young scientists working in the field of molecular imaging. ySMIN welcomes researchers working in all imaging modalities and offers MSc/PhD students and early career postDocs an easy and friendly entry into the imaging community. In this sense, ySMIN pursues to attract Spanish imaging scientists to the ESMI in order to strengthen the imaging community.
OBJECTIVES
To bring together the young Spanish imaging community in order to create a pioneering regional network.
To create a knowledge hub for molecular imaging built on a multidisciplinary team of researchers with background in biology, chemistry, engineering, nanotechnology and physics, among others.
To foster collaborations between different laboratories within the network.
To organize scientific meetings and workshops in the field open to the Spanish imaging community.
To provide an overview of Spanish research activity in the field of molecular imaging.
To attract young Spanish imaging scientists to the ESMI.
ySMIN Leadership
Beatriz Salinas – Madrid (Chair)
Raul Herance- Barcelona (Co-Chair)
Abraham Martín (former Chair) – Bilbao
Mónica Carril (former Co-Chair) – Bilbao
Isabel Quiros Gonzales – Oviedo
Mónica Abella – Madrid
Eduardo Lage- Madrid
Contact
If you want to join our community, participate in the organization of our activities, or share your ideas, do not hesitate to contact us via ySMIN@esmi-insight.eu
Interested in joining a yESMI Group?
You are an ESMI member already? Just log-in to your ESMI member portal, select "edit your membership details" and sign-in to any set of yESMI Group you are interested in.
Not a member yet?
Proceed to the Member Portal and register – it is just 20€/anno for MSc and PhD students.