What else to say rather than…
THANKS for your participation, for sharing your excellent science, the open-minded discussions at and around the EMIM 2019! It was simply a pleasure meeting you in Glasgow.
The EMIM 2019 was the 14th annual meeting of the ESMI.
RECORDINGS of PLENARY LECTURES now available via the member portal
EMIM 2019 online PROGRAMME incl. abstracts
Many EMIM photos are available at the fb page (open access!)
Plenary Lectures
From Cell to Human Body…
Wolfgang Baumeister, Martinsried – Germany
Cryo-Electron Tomography -The Promise and Challenges of Doing Structural Biology in situ
Owen Sansom, Glasgow – UK Using image based masspec to interrogate cancer metabolism
Anna Wu, Duarte/LA – USA
Imaging Immune Responses – A Fresh Look using ImmunoPET
Lihong Wang, Pasadena, USA World's Deepest-Penetration and Fastest Optical Cameras: Photoacoustic Tomography and Compressed Ultrafast Photography
Rebecca Fitzgerald, Cambridge – UK
A clinical perspective for successful application of new technologies
Jason S. Lewis, New York – USA
Molecular imaging in humans; where are we and where are we going?
24 Parallel Session
| | |
| --- | --- |
| PS 01 | Nuclear Imaging in Diagnosis & Treatment of Cancer |
| PS 02 | MRI Probes – 19F, Iron Oxide & CEST |
| PS 03 | Optical & Microscopy Technologies |
| PS 04 | Late-Breaking Pitches in Onco(-Immunology) & Neuroimaging |
| PS 05 | PET, CT & Multimodal Technologies |
| PS 06 | New Methods in Neuroimaging |
| PS 07 | Imaging in Infections |
| PS 08 | Imaging the Vasculature and the Heart |
| PS 09 | Intra-Operative Imaging |
| PS 10 | SPECT Probes – New Approaches & Applications |
| PS 11 | Imaging Metabolism |
| PS 12 | Data Processing & Quantification |
| PS 13 | MRI & MRS Technologies |
| PS 14 | Novel Optical, Acoustic & Optoacoustic Probes – from Imaging to Therapy |
| PS 15 | Imaging Immune Responses |
| PS 16 | New Tools for Cancer Imaging |
| PS 17 | PET Probes – Novel Radiotracers & Applications |
| PS 18 | MRI & Optical Imaging in Diagnosis & Treatment of Cancer |
| PS 20 | Neuroimaging: Disease Models & Translational Approaches |
| PS 21 | Understanding Tumour Biology |
| PS 22 | MRI Probes for Biomarker Imaging |
| PS 23 | Brain: Structure, Function, Networks |
| PS 24 | Ultrasound & Opto-Acoustic Technologies |
Educational Programme
Two educational Spotlight Symposia were scheduled for 19 March from 11.00h to 17.00h:
Symposium 1 "Mass Spectrometry"
Symposium 2 "Optoacoustic Imaging"
Plus four Educational Sessions scheduled at 19 March 2019 from 13.30h to 17.00h:
Onco-Immunology
X-ray Imaging
Intravital Microscopy
Intra-Operative Imaging
EMIM 2019 online PROGRAMME incl. abstracts
EMIM 2019 Poster Awards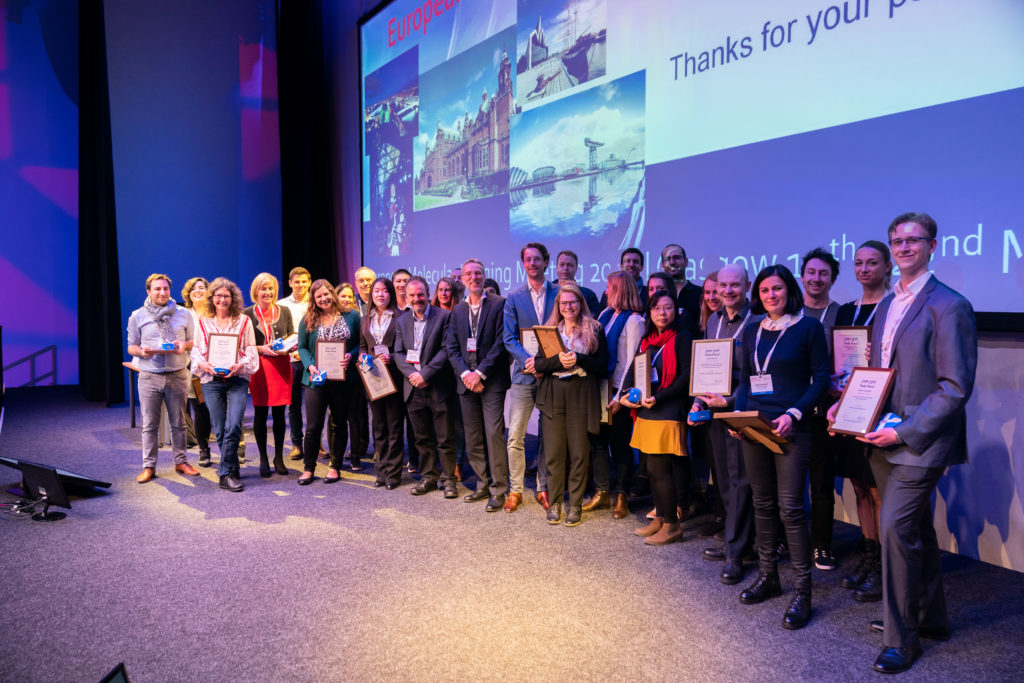 30 thematic poster walks were scheduled with no competing sessions in parallel. Each of the poster walks was chaired by two chair persons and resulted into an EMIM 2019 poster award.
PW01 Imaging Host Responses
19F MRI of neutrophil granulocytes by targeting the cell surface receptor CD177 by Sebastian Temme – Düsseldorf, Germany
PW02 Synthesis and Enabling Technologies | New Probes
s-tetrazine: a "clickable" platform for the site-specific dual-labeling of proteins by Victor Goncalves – Dijon, France
PW03 PET/SPECT, Radionuclide, X-ray, CT | New Probes
The synthesis and validation of a multimodal PET/fluorescence zinc sensing probes as potential imaging agents for prostate cancer by George Firth – Hull, UK
PW04 MRI | Technology
An Extracorporeal Circulation Mouse Model for Simultaneous Measurements of DCE-MRI Arterial Input Functions and Radiotracer Blood Concentrations by Philipp Backhaus – Münster, Germany
PW05 Ultrasound and Opto-Acoustic | Technology
Photoacoustic blood oxygenation measurements combined with online pO2 detection and flow spectrometry by Joanna Brunker – Cambridge, UK
PW06 Imaging Cancer Therapy
Theranostic innovative nano-compounds for fluorescent imaging and boron neutron capture therapy (BNCT) by Lucie Sancey – La Tronche, France
PW07 Onco-Immunology Imaging
Fixed and live imaging of neutrophils in the lung pre-metastatic niche by Amanda McFarlane – Glasgow, UK
PW08 Disease Models, Translational Approaches | Neuroimaging
Erythropoietin receptors can be targeted in human and rat stroke tissue using [89Zr] Deferoxamine-EPO by Kristin Patzwaldt – Tübingen, Germany
Above mentioned posters were presenter within Poster Session 1
PW09 Imaging the Heart and the Vascular System
Manganese enhanced MRI can quantify myocardial infarct size earlier than gadolinium enhanced MRI by Daniel Stuckey – London, UK
PW10 Data Processing & Quantification
Dispersion Correction for Sampled Blood Input function in Rats by Herve Boutin – Manchester , UK
PW11 Imaging Metabolism
Towards Fast Deuterium Metabolic Imaging by Felix Kreis – Cambridge, UK
PW12 MRI and Multimodal | New Probes
Monitoring cell proliferation by exploiting CEST-MRI methods by Giuseppe Ferrauto – Torino, Italy
PW13 PET/SPECT, Radionuclide, X-ray, CT | New Probes
Development of 68Ga and 18F radiolabelled peptide probes for PET imaging of αvβ6 integrin expression in cancers and fibrotic diseases by George Herbert – Hull, UK
PW14 Nuclear Imaging | Technology
Monte Carlo simulation of a Total Body PET scanner based on the PENN PET by Nikos Efthimiou – Hull, UK
PW15 X-Ray based Imaging | Technology
Automatic quality control and recalibration for micro-CT without user intervention by Bert Vandeghinste – Ghent, Belgium
PW16 Mass Spectrometry | Technology
Multimodal mass spectrometry imaging for assessment of response and resistance to Oncology combination therapies by Stephanie Ling – Cambridge, UK
PW17 Understanding Tumour Biology
The accumulation of tumor-derived exosomes changes the immune cell composition in target tissue of metastasis by Moritz Wildgruber – Münster, Germany
PW18 Imaging to Diagnose Cancer
Micro-Computed Tomography of a murine non-alcoholic fatty liver disease model with liver-specific knockout of the mTOR pathway by Diana Möckel – Aachen, Germany
PW19 Brain: Structure, Function, Networks
Longitudinal in vivo MRI assessment of functional connectivity reveals early pathological hypersynchronisation of brain networks in the inducible Tet-off APP mouse model of Alzheimer's disease by Inès Ben-Nejma – Wilrijk, Belgium
EMIM 2019 in Glasgow, UK
Numbers
750 Participants from
31 Countries
327 Reviewer
468 Abstracts
each reviewed by an average of 7.6 reviewers
292 Talks
11 Plenary Lectures
168 Session Chairs
9 Study Group meetings
3 Meet the Expert sessions
4 Focus Sessions
290 Posters presented in
30 Thematic Poster Walks
60 poster chairs (…)
Thanks for your participation & contribution!