THANKS TO ALL OF YOU WHO CONTRIBUTED TO THE BIG SUCCESS OF THE EMIM2011!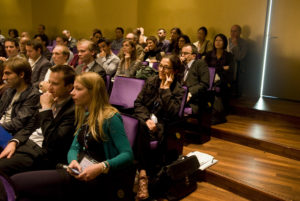 Date:
June 19-21,2011
Place:
Leiden, The Netherlands
Venue:
Stadsgehoorzaal
Breestraat 60
13 Parallel Sessions…
…were organised by the joint efforts of the Scientific Programme Committee.
The session topics:
Molecular Neuroimaging
Image Guided Therapy
Probes/Chemistry (together with COST action D38)
Biomedical Applications of Photonics (together with the dutch IOP Photonics)
Imaging Cancer Treatment and Evaluation (together with the ESR)
Ex vivo and in vivo Microscopy and Cell Tracking (together with ENCITE)
Theranostics (together with EANM/COST action BM0607)
Imaging in Drug Discovery and Development
Imaging in Cardiovascular Disease (together with the ESR)
Reporter Systems and Reporter Animals for Molecular Imaging
Inflammation and Neurodegeneration
Image Guided Surgery
(Hybrid) Imaging Technologies
Plenary Speakers and talk titles: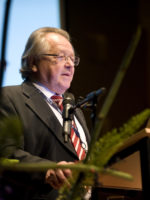 The Inaugural Lecture on "Metabolic Imaging in Health and Disease" was given by Professor Sir George C. Radda. Sir George Radda is well known for his pioneering efforts in Nuclear Magnetic Resonance (NMR) methods used to study the human body; he published the first use of phosphorus NMR to study tissue metabolites in 1974. He is Chairman of the Singapore Bioimaging Consortium (SBIC). He was also a key driver in building up bioimaging capabilities for clinical R&D in Singapore through the establishment of the Clinical Imaging Research Centre (CIRC)
Daniel C. Anthony – Head of Experimental Neuropathology Laboratory at the University of Oxford, University Lecturer and Fellow on
"Imaging Inflammation with Targeted Contrast Agents"
Robert J. Gillies – director Molecular and Functional Imaging at the H. Lee Moffitt Cancer Center and Research Institute in Tampa on
"Heterovalent Targeting"
Ton G. van Leeuwen – Head of the Biomedical Engineering and Physics department in the Faculty of Medicine at the Academic Medical Centre of the University of Amsterdam on "Promises and Pitfalls of Photo-Acoustic Molecular Imaging with Gold Nanoparticles"
Mark Lythgoe – Director of the Centre for Advanced Biomedical Imaging at the University College London – UCL on
"Optogenetics and MRI: Shedding Light on the Brain"
Gero Miesenboeck – Waynflete Professor of Physiology at the Department of Physiology, Anatomy and Genetics at the University of Oxford on
"Lighting Up the Brain"
Nadine Peyriéras from the CNRS-NED Team "Multiscale Dynamics in Animal Morphogenesis" Gif sur Yvette on "Visualization of Protein Tubules Involved in Cell Division and Cell Boundaries in Live Embryos"
Hong Zhang – lecturer at the van't Hoff Institute for Molecular Sciences University of Amsterdam on "Construction of upconversion Photonic Nanoplatform for Bioimaging and Photodynamic Therapy of Cancer"
Scientific Steering Committee:
Silvio Aime, Torino (I)
Frauke Alves, Goettingen (D)
Veerle Baekelandt, Leuven (B)
Hervé Boutin, Manchester (UK)
Kevin Brindle, Cambridge (UK)
John Clark, Edinburgh (UK)
Marion de Jong, Rotterdam (NL)
Jouke Dijkstra, Leiden (NL)
Frédéric Dollé, Orsay (F)
Sébastien Couillard–Després, Salzburg
Denis Guilloteau, Tours (F)
Nicolas Grenier, Bordeaux (F)
Uwe Haberkorn, Heidelberg (D)
Arend Heerschap, Nijmegen (NL)
Mathias Höhn, Cologne (D)
Andreas H. Jacobs, Münster (D)
Eric Kaijzel, Leiden (NL)
Fabian Kiessling, Aachen (D)
Tony Lahoutte, Jette (B)
Adriaan Lammertsma, Amsterdam (NL)
Boudewijn Lelieveldt, Leiden (NL)
Clemens W.G.M. Löwik, Leiden (NL)
Helmut R. Maecke, Freiburg (CH)
Adriana Maggi, Milano (I)
Chrit Moonen, Bordeaux (F)
Robert Muller, Mons (B)
Michal Neeman, Rehovot (IL)
Klaas Nicolay, Eindhoven (NL)
Vasilis Ntziachristos,Munich (D)
Sabina Pappatá, Naples (I)
Bernd Pichler, Tuebingen (D)
Jorge Ripoll, Heraklion (GR)
Markus Rudin, Zuerich (CH)
Michael Schäfers, Muenster (D)
Markus Schwaiger, Munich (D)
Hans Tanke, Leiden (NL)
Bertrand Tavitian, Orsay (F)
George Themelis, Munich (DE)
Eva Tóth, Orleans (F)
Alexander Vahrmeijer, Leiden (NL)
Gooitzen van Dam, Groningen (NL)
Annemie van der Linden, Antwerp (B)
Louise van der Weerd, Leiden (NL)
Participating societies/projects
We are very pleased that the European Society for Radiology – ESR, the European Association for Nuclear Medicine – EANM, the European Network for Cell Imaging and Tracking Expertise – ENCITE, European COST Actions, and the Dutch IOP Photonics co-organized sessions and contributed to the set-up of an excellent programme. THANKS!
Thanks for your support!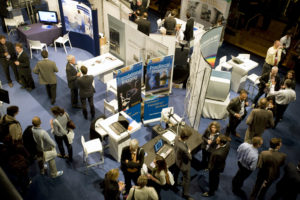 Platinum
Caliper Life Science
GE Healthcare
Gold
MILabs together with Skyscan
Philips together with Bioscan
Silver
ART Technologies
BRACCO

carestream
CT Imaging
iTheraMedical
MiltenyiBiotec
O2view
PerkinElmer
Biospace lab
Bruker
CheMatech
fluoptics
LI-COR

MR solutions

Siemens
Visualsonics
Friends
Berthold Technologies, Digisens, novartis, Zinsser Analytic
EMIM 2011 in Leiden, The Netherlands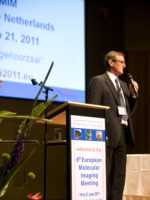 Dear Colleagues,
under the auspices of the European Society for Molecular Imaging, contributing associate societies and collaborative partner organisations, we offer you a very warm welcome to the 6th European Molecular Imaging Meeting – EMIM that is to be held in the beautiful city of Leiden, The Netherlands
read more

Welcome by the ESMI president Clemens W.G.M. Löwik
View the amazing "Operation Green Light" laser show of the Opening Reception at YouTube
EMIM 2011 Programme
EMIM 2011 Abstracts
ESMI Awards 2011
The ESMI Award 2011 was presented to Annemie van der Linden from Antwerp. The laudatio was given by Andreas Jacobs. Thank you very much for your contribution, your commitment, your visions, and your passion…
ESMI YIA 2011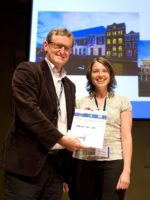 The ESMI Young Investigator Award 2011 was presented to Mariska de Smet from Eindhoven for her work on
130 young investigators applied for the ESMI Young Investigator Award 2011; 42 were shortlisted and their talks evaluated within the respective Parallel Sessions.
The evaluation criterias were: the pre-score given by the reviewers, the scientific quality of the talk, quality of presentation, and the ability to answer requests. Within the Closing Ceremony on Tuesday 21 June 2011 the six best evaluated Young Investigator Award applicants presented their talks:
ESMI Poster Awards 2011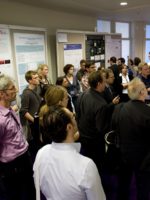 All in all 195 posters were presented. This year special attention has been put on 10 Guided Poster Walks in order to enhance the knowledge exchange of experienced and young researchers. The Poster Awards 2011 were presented to fourteen outstanding scientific contributions in ten diverse fields of MI:
Development in Imaging Technology
Jan Klohs, Zürich (Poster No. 3)
Imaging Ananlysis and QuantificationFelix Gremse, Aachen (Poster No. 45)
Imaging Cancer Treatment and Evaluation
Joost Haeck, Rotterdam (Poster No. 94) Greco Adelaide, Naples (Poster No. 29) Thomas Viel, Muenster (Poster No. 37)
Tumour Biology Metabolism
Dennis Doleschel, Aachen (Poster No. 98)
Probe Design
Lena Schönzart, Berlin (Poster No. 138) Carlos Geraldes/André Martins, Coimbra (Poster No. 73)
Imaging in Cardiovascular Disease
Birgit den Adel, Leiden (Poster No. 160)
Animal Models
Carol van der Donckt, Wilrijk (Poster No. 107)
Inflammatory and Metabolic Disorders
Eva Korpos, Muenster (Poster No. 149)
Molecular Neuroimaging
Daniel Kalthoff, Cologne (Poster No. 153)
Others
Jeannine Missbach-Guentner, Göttingen (Poster No. 195)Matthias D'huyvetter, Jette (Poster No. 184)