Date:
May 26-29, 2010
Place:
Warsaw, Poland
Venue:
Novotel Warszawa Centrum
Marszałkowska 94/98
00-510 Warsaw
The ESMI succeed in showing the advantage of translational networking by bringing together physicists, technologists, physicians, biologists, and chemists; as well as by the close organisational collaboration with EU funded network-projects "DiMI– Diagnostic Molecular Imaging" as well as "Clinigene – Clinical Gene and Cell Therapy" and the "European Society for Radiology – ESR". The meeting was also supported through "COST Actions – European Cooperation in Science and Technology".
Session Topics:
Technology
Probes
Gene and cell based therapy
Neuroscience
Cardiovascular
Cancer
Drug development
Poster Topics:
MI in Cancer Biology – Visualisation of Extra- and Intracellular Processes
Imaging in Drug Development
Cancer from Bench to Bedside – Translational Research in Oncology
Imaging in Cardiovascular Disease: from Bench to Bedside
Molecular Neuroimaging: from Bench to Bedside
Imaging-guided Gene and Cell based Therapies
Probe Design – Innovative Approaches to Smart Contrast Agents
Technology – Technical Advances in MI Instrumentation
Imaging in Endocrine Diseases
MI of Infection and Inflammation
Imaging for Targeted Therapy
MI Data Analysis Methods
Scientific Committee:
Ludwig Aigner, Salzburg (A)
Silvio Aime, Torino (I)
Veerle Baekelandt, Leuven (B)
Hervé Boutin, Manchester (Uk)
Harald Carlsen, Oslo (N)
John Clark, Edinburgh (Uk)
Marion Dejong, Rotterdam (Nl)
Silvana Del Vecchio, Naples (I)
Frédéric Dollé, Orsay (F)
Eugeniusz Dzuik, Warsaw (Pl)
Cornel Fraefel, Zuerich (Ch)
Jorgen Frokiaer, Aarhus (Dk)
Nicolas Grenier, Bordeaux (F)
Denis Guilloteau, Tours (F)
Uwe Haberkorn, Heidelberg (D)
Mathias Höhn, Cologne (D)
Andreas H. Jacobs, Münster (D)
Fabian Kiessling, Aachen (D)
Izabela Kozlowicz-Gudzinska, Warsaw (P)
Leszek Krolicki, Warsaw (Pl)
Tony Lahoutte, Jette (B)
Adriaan Lammertsma, Amsterdam (Nl)
Bengt Långstrom, (S)
Clemens W.G.M. Löwik, Leiden (Nl)
Helmut R. Maecke, Freiburg (Ch)
Adriana Maggi, Milano (I)
Serge Maitrejean, Paris (F)
Renata Mikolajczak, Warsaw (P)
Chrit Moonen, Bordeaux (F)
Klaas Nicolay, Eindhoven (Nl)
Vasilis Nziachristos,Munich (D)
Sabina Pappata, Naples (I)
David Parker, Durham (Uk)
Bernd PIchler, Tübingen (D)
Anna Planas, Barcelona (E)
Juha Rinne, Turku (Fin)
Jorge Ripoll, Heraklion (Gr)
Markus Rudin, Zürich (Ch)
Michael Schäfers, Münster (D)
Markus Schwaiger, Munich (D)
Bertrand Tavitian, Orsay (F)
Eva Tóth, Orleans (F)
Annemie Van Der Linden, Antwerp (B)
David Wyper, Glasgow (Uk)
Young Investigator Award Selection Committee:
Veerle Baekelandt
Hervé Boutin
Peter Brader
John Clark (Chair)
Frédéric Dollé
Nicolas Grenier
Fabian Kiessling
Adriaan Lammertsma
Renata Mikolajczak
Chrit Moonen
Klaas Nicolay
Markus Schwaiger
Bertrand Tavitian (Chair)
Eva Tóth
David Wyper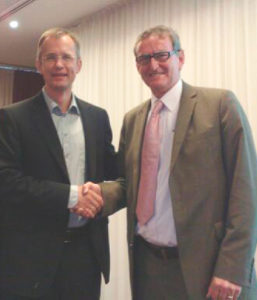 Within the ESMI General Assembly in Warsaw on Friday May, 29, 2010 the former ESMI president Andreas H. Jacobs handed over the presidentship to Clemens W.G.M. Löwik.
ESMI Young Investigator Awards 2010
The ESMI Young Investigator Award 2010 went to three deserving individuals whose laboratories and research highlight the scientific diversity of the European Molecular Imaging Meeting:
Anu Autio from Turku, Finland for her work on
Stefanie Lehmann from Zürich, Switzerland for her work on
and Caroline Vandeputte from Leuven, Belgium for her work on
ESMI Poster Awards 2010
The Poster Awards 2010 were presented to ten outstanding scientific contributions in seven diverse fields of MI:
Technology and Data Analysis Methods
Imaging in Cancer and Drug Development
Yolanda Fernández
Imaging in other Diseases
Imaging Guided Gene and Cell based Therapies