THANKS! For an inspiring, open-minded, and great week in the French Alps dedicated to Neuroimaging.

Date: 19-24 February 2017
Venue: Ecole de Physique des Houches
Les Houches, France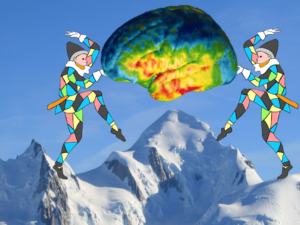 Our vision of how the brain works is constantly evolving through progress of applied physics and mathematics that explore neural activity: molecular imaging of synaptic function, neuroendocrine modulation, cell survival and cellular interactions, mapping of brain functions and description of neuronal networks and plasticity. Conversely, the way in which the nervous system treats complex informationinspires new mathematics approaches such as neural networks. Moreover, merging physics approaches with genetics opens the fascinating capacity to control behaviours. Comprehensive training of neuroscientists into these new tools and concepts has become essential.
Overall concept
Since 2007 the overall concept of TOPIM has been that experienced, high-level international scientists and younger/less experienced scientists from diverse disciplines are spending one week together at an inspiring place and to provide a "think tank" for knowledge exchange and intensive discussion.
Presentations are held during the morning and early evening; so that there are plenty of opportunities for continued scientific discussions also in the afternoon.
TOPIM 2017 Committee
Bertrand Tavitian – Paris, France CHAIR standing committee
Michal Neeman – Rehovot, Israel CO-CHAIR standing committee
Vasilis Ntziachristos – Munich, Germany CO-CHAIR standing committee
Veerle Baekelandt – Leuven, Belgium
Cornelius Faber – Münster, Germany
Mathias Hoehn – Cologne, Germany
Andreas Jacobs – Bonn/Münster, Germany
Jan Klohs – Zurich, Switzerland
Adriaan Lammertsma – Amsterdam, The Netherlands
Annemie van der Linden – Antwerp, Belgium
TOPIM 2017
SPEAKERs
Veerle Baekelandt – Leuven, Belgium
David Boas – Boston, USA
Bogdan Draganski – Lausanne, Switzerland
Jane Foster – Hamilton, Canada
Amanda Kiliaan – Nijmegen, The Netherlands
Amy Bernards – Seattle, USA
Arthur Konnerth – Munich, Germany
Pierre Magistretti – Lausanne, Switzerland
Rosalyn Moran – Bristol, UK
Christin Y. Sander – Boston, USA
Annemie van der Linden – Antwerp, Belgium
Jürgen Voges – Magdeburg, Germany
Xin Yu – Tübingen, Germany

TOPIM 2017 was kindly supported by the FP7 project INMiND – Imaging of Neuroinflammation in Neurodegenerative Diseases