Save the date & join us in Tübingen for the MoBi 2023!
It is our greatest pleasure to invite you to Tübingen for the MoBi 2023. This 6th edition is hosted and organized by the German young Molecular Imaging Community (GyMIC) – the German young ESMI group.
WHEN? 24 to 25 August 2023
WHERE? Alte Aula, University of Tübingen
WHO? The MoBi is primarily designed for early-career investigators, but participation is in no way limited to young(er) ones. In contrary: we aim to provide an informal platform for collaboration and exchange – also between generations!
Who we are and why you should join
We are the young German Molecular Imaging Community (GyMIC): a pioneering imaging science community in Germany run by early-career researchers who promotes the formation of a strong network of ECR's working in the broad and multidisciplinary field of imaging science. Since its foundation in 2018, GyMIC is one of the driving forces of the youngESMI initiative.
We are particularly offering MSc/PhD students and early career post-docs an easy and informal entry into the broader international imaging community. In this sense, GyMIC pursue to attract young imaging scientists to the "mother" society – the ESMI.
Contact
GyMIC Leadership
GyMIC(at)esmi-insight.eu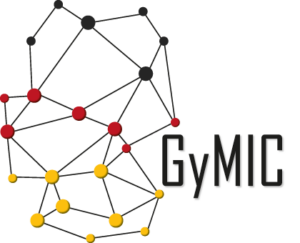 Timeline
June | Opening of Abstract Submission
4 July | Deadline Abstract Submission
26 July | Deadline Early Bird Registration
24-25 August | MoBi 2023
Organizers
Sophie Stotz, Tübingen
Daniel Gündel, Dresden/Leipzig
Emily Hoffman, Münster
Jan-Niklas May, Aachen
Thanks for your support!
Bruker
Fujifilm Visualsonics
iThera Medical
Mediso
MRSolutions