"Let's meet halfway between Canada and Europe!"
What came across as more of a joke soon developed into a beautiful, unique project and a wonderful collaboration between Canadian and European scientists:
A thematic, jointly organised, week-long, residential conference in a unique, inspiring location:
Theme: Theranostic Horizons
The Concept
Our idea seemed simple but challenging: choose a "hot" topic in imaging science, bring together a limited group of international scientists from different disciplines and career stages to spend one week in a unique, beautiful and inspiring place to discuss science and open up new horizons – that's it!
The Theme
Theranostics, the intersection between sensing, imaging, and therapy, is rapidly becoming the next frontier for precision and molecularly-targeted medicine. The emerging and current challenges in theranostics will require multi- and interdisciplinary solutions spanning chemistry, engineering, biochemistry, and physiology.
In this vein, we endeavour to provide a collaborative venue where scientists and clinicians not only from Canada and Europe, but from all around the world can share their expertise and forge new approaches to meet the challenges on the horizon for theranostics.
The Programme
Theranostic Horizons will kick off with introductory lectures by internationally renowned scientists, which will provide the basis and set the tone for the coming week. These lectures will be followed by an exciting, well-balanced mix of top-notch speakers presenting their original research, talks and poster presentations selected from your abstract submissions, group discussions, and excursions to the magic environment of West Iceland.
Read more about Speakers & Programme
Why Iceland?
Besides being half-way between Canada and Europe, Iceland – and Bifröst University in particular – as an idyllic intermediary, remote venue, this residential meeting has as its purpose to connect, to educate, and to stimulate new directions for collaborative, theranostic research.
Iceland is a country of extreme contrasts and dramatic landscapes. Widely known as "the land of fire and ice," Iceland is home to some of the largest glaciers in Europe and some of the world's most active volcanoes.
Bifröst University is located in West Iceland that is described as one of Iceland's most geologically diverse regions. Its natural wonders are a nearly exhaustive sampling of all that Iceland offers, ranging from slumbering volcanoes and majestic waterfalls to various flora and wildlife.
We couldn't resist this inspiring environment along with the academic setting of a University!
Key Numbers
Total area: 103,592 km²
Coastline: 6.542,4 km
Lakes and rivers: 2.757 km²
Glaciers: 11.922 km²
Sandplains 4.000 km²
Lava fields 11.000 km²
Forests: 1,907 km²
Largest lake: Þingvallavatn 82 km²
Highest point: Hvannadalshnúkur 2,119 m
Population: 368.792 (2021)
Good to know already
Participation is limited to 70.
Priority is given to all who submit an (accepted) abstract, only very few seats are open to others.
All attendees are asked to stay for the entire duration of this Iceland adventure.
All are accommodated at Bifröst University where also lectures and meals will take place.
The registration fee includes accommodation with full board.
Invited Speakers
Angela Casini – Munich
Xiaoyuan (Shawn) Chen – Singapore
Cathy Cutler – New York
Paula Foster – London Ontario
Assaf A. Gilad – Michigan
Michael Lin – Stanford
Shwetal Mehta – Phoenix
Neil Vasdev – Toronto
Wolfgang Weber – Munich
Read more about Speakers & Programme
The Committee
Naomi Matsuura – Toronto
Michal Neeman – Rehovot
Vasilis Ntziachristos – Munich
John Ronald – London, ON
Adam Shuhendler – Ottawa
Bertrand Tavitian – Paris
Tim Witney – London, UK
in alphabetical order
Timeline
1

9 May | Deadline Abstract Submission

mid of June | Notification on Acceptance/Rejection
1 June | Opening Registration
21-26 August | Theranostic Horizons in Iceland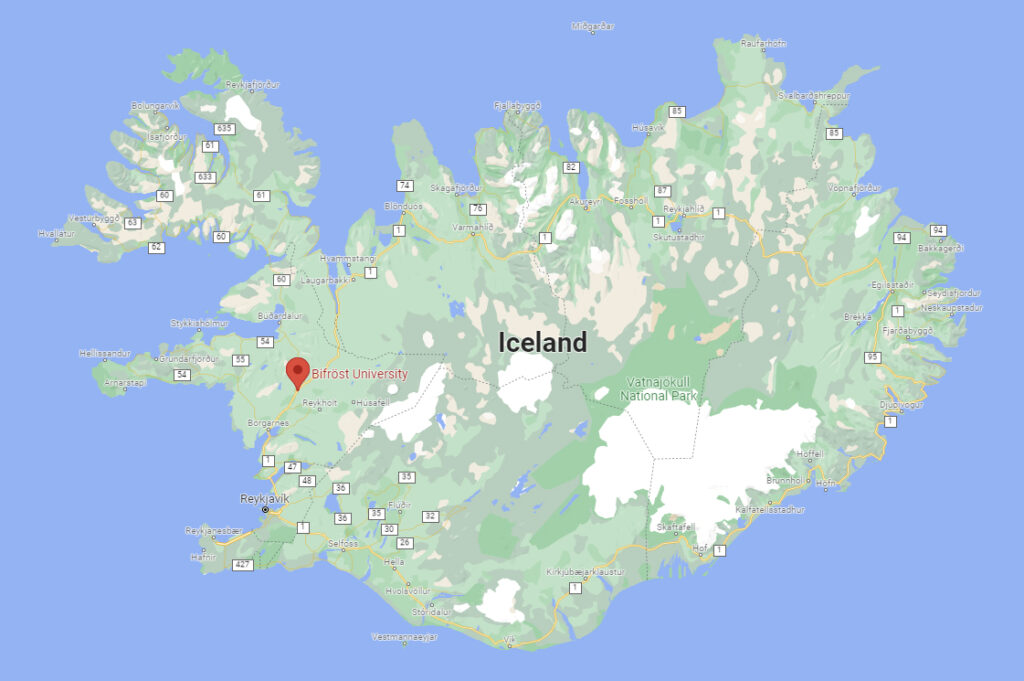 An ESMI/WMISCan cooperation