Young Investigator Award 2021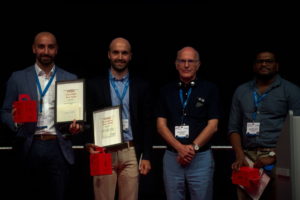 The finalists for the Young Investigator Award 2021 were selected from the excellent abstract submissions. Out of 81 applications, these three were selected as finalists based on the extensive review outcome. Deva, daniele, and Pascal presented their work during the dedicated YIA Plenary Lecture.
Daniele Bertoglio from Antwerp, Belgium for his work on "Longitudinal evaluation of the first mutant Huntingtin PET radioligand as a marker for mHTT lowering therapies for Huntington's Disease"
Pascal Wodtke from Munich, Germany on "Hyperpolarized 13C-labelled Z-OMPD enables in vivo pH imaging"
Deva Nishanth Tirukoti from Rehovot, Israel on "In-vivo MRI mapping of labile Zn2+ in the brain based on fast ion-chelate exchange dynamics"
…and the winner is: Daniele Bertoglio from Antwerp!
CONGRATS to all three of you not only for your excellent work and presentations but also for the joy you brought and the tremendously nice interaction!
Poster Awards 2021 – the Winners
Poster Session I
PW01 Understanding Tumour Biology I
Jakub Mitręga, Göttingen – Analysis of adaptation mechanisms to low microenvironmental pH and pH-dependent processes in pancreatic ductal adenocarcinoma
PW02 Immuno-Oncology Imaging
Daniel Schäfer, Bergisch Gladbach – Ultrahigh-content imaging helps to identify CAR target candidates against pancreatic adenocarcinoma
PW03 Imaging Cancer Therapy I
Maryana Handula, Rotterdam – Investigation on long-acting SSTR2 antagonist analogs to improve radionuclide therapy of NETs
PW04 New Tools for Cancer Imaging
Diana Pinkert-Leetsch, Göttingen – Phase-contrast based X-ray tomography allows detailed 3d analysis of tissue characteristics of pancreatic cancer precursors PanIn and IPMN
PW05 Structural & Functional Neuroimaging I
Pedro Ramos-Cabrer, San Sebastián – Functional rewiring across spinal injuries via biomimetic nanofiber scaffolds
PW06 Neuroinflammation and Disease Models I
Tamara Vasilkovska, Antwerp – Dynamic, large-scale brain network aberrations in the pre- and manifest disease stages in the Q175 mouse model of Huntington's disease
PW08 Radiotheranostics
Carolin Kitzberger, Munich – Hypoxia imaging guided mesenchymal stem cell-mediated sodium iodide symporter (NIS) gene delivery in glioblastoma
PW09 Intraoperative Image Guidance
Valeria Bitonto, Torino – Identification of tumour tissue by means of low field NMR relaxometry for intraoperative tumour margin assessment in breast-conserving surgery
PW10 Imaging Metabolism
Nikolina-Alexia Fasoula, Munich – A Common Translational Framework for Multispectral Optoacoustic Imaging of Fatty Liver: From Mice to Men
PW11 PET/SPECT, Radionuclide, X-Ray, CT II | Probe Chemistry
Natan Straathof, Roskilde – New bifunctional derivatives of the [16]aneS4chelator for soft radiometals
PW12 Optical | Probe Chemistry
Lina El Hajji, Paris – Engineering of a near-infrared chemogenetic fluorescent reporter
PW13 MRI & Multimodal Technologies
Kian Shaker, Stockholm – Preclinical nanoparticle X-ray fluorescence computed tomography
PW15 Image Processing & Quantification
Christoph Dehner, Neuherberg – Deep-learning-based electrical noise removal for localized spectral optoacoustic contrast in deep tissue
check Abstracts of posters above here
Poster Session II
PW16 Understanding Tumour Biology II
Micol Rugi, Münster – The mechano- and pH-sensitivity of K2P2.1 channels in pancreatic stellate cells
PW17 Imaging to Diagnose Cancer
Ghadir Kalot, Grenoble – Deciphering the Aza-BODIPY NIR-II fluorescence properties and tumor-targeting capacity
PW18 Imaging Cancer Therapy II
Bram Carlier, Leuven – A first step towards photon dosimetry using phase-change ultrasound contrast agents
PW19 Structural & Functional Neuroimaging II
Romy Cools, Leuven – Preclinical evaluation of [11C]HSP990 for in vivo visualisation of heat shock protein 90 (Hsp90) in brain with positron emission tomography (PET)
PW20 New Methods & Methodology in Neuroimaging
Oscar Demeulenaere, Paris – 3D Ultrasound Localization Microscopy of the whole rat brain using RCA and XDoppler imaging
PW21 Disease Models in Neuroimaging II
Anja Barić, Zagreb – Brain and retinal ischemia in diabetes mellitus: The effects of bradykinin type 2 receptor deficiency
PW22 Cardiovascular & Respiratory Imaging
Ruslan Hlushchuk, Bern – Ex vivo microangioCT in preclinical research
PW24 Immunology/Infection
Julia Stahl, Tübingen – Simultaneous in vivo PET/MR Imaging of the homing dynamics of CD8+ T cells and phagocytes in acute and chronic cutaneous Delayed-Type Hypersensitivity Reaction (DTHR)
PW25 Image-Guided Drug Delivery
Deyssy Patrucco, Torino – MRI-guided low intensity ultrasound stimulation to improve chemotherapy with liposomal doxorubicin in ovarian cancer
PW26 MRI | Probe Chemistry
Paul Fehling, Tübingen – Nanosized free radicals for the use as contrast and hyperpolarization agents in ultralow-field and high-field MRI
PW27 PET/SPECT, Radionuclide, X-Ray, CT II | Probe Chemistry
Ida Andersen, Copenhagen – Improvement of the direct aromatic 18F-labeling of tetrazines
PW28 Optoacoustic, Ultrasound, Multimodal | Probe Chemistry
Dominic Depke, Münster – IMAGene – Multiscale molecular imaging of tumor and immune cells with genetically encoded reporter systems
PW29 Microscale Technologies
Roberto Fernández, Madrid – Light sheet microscopy system for multispectral analysis
PW30 X-Ray Technology
Angelika Svetlove, Göttingen – Low dose x-ray based lung function for in-vivo analysis of impaired lung function in a Duchenne muscular dystrophy mouse model
PW31 Ultrasound & Optoacoustic Technologies
Alexander Klose, New York – InVivoSCAN – a modular fluorescence and bioluminescence 3D imaging system with cloud-based image data analysis
ESMI PhD Award
The ESMI Award for excellent PhD thesis was presented to Markus Seeger from Boston (formerly Munich) for his work on "Hybrid microscopy: A novel microscope integrating advanced optical and optoacoustic modalities for multi-modal examinations of biological specimens".