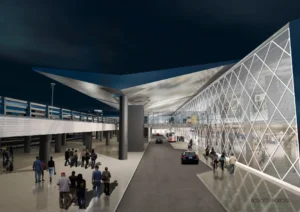 The International Airport "Makedonia" (SKG) connects Thessaloniki with about 38 countries and more than 60 foreign cities via direct flights, as well as 35 cities and islands in Greece. Although the number of connections varies depending on the season. About 6 million passengers are served annually.
The airport is located 16 km from the city centre, connected via bus lines or taxi (20€ to 25€).
An overview of all DESTINATIONS (connected via direct flights) can be found here.
COVID-19 Travel Information
It is on each participant to check which measures and restrictions apply for domestic/international travel to Greece. You may wish to consult the official portal of the Hellenic Republic.
COVID-19 Entrance Restrictions
As per the Greek Government, access to the venue is only allowed for participants who can provide:
proof of complete vaccination (two weeks after second vaccination; for J&J after first) or
proof of recovery from COVID-19 (not older than six months)
A negative test result (PCR or rapid) is not sufficient!
Good to know!
TIME
Thessaloniki like the rest of Greece, belongs to the Eastern European Time Zone and is two hours ahead of Greenwich Mean Time (GMT +2).
ELECTRICITY
Electricity in Greece is 230V AC (50Hz). Make sure to bring an adapter if needed.
CURRENCY
Greece is a member of the Eurozone. You can buy Euros from banks and exchange offices in the city centre and at the airport.
SHOPPING HOURS
Regular shopping hours are between 09.00h and 21.00h but not predominated. Smaller shops may keep the midday siesta and open just after 17.00h again.
There are Nno limitations concerning opening hours of gastronomy.
Useful links & further information
Accommodation
We do not provide accommodation booking options via our registration system. Please take care of your accommodation in Thessaloniki well in advance!
ATTENTION – fake hotel booking providers!
The ESMI has not subcontracted any official service providers or "Hotel Allocator" companies – please be attentive concerning fraud!