Could you think of a better place for the EMIM rather than the CITY of SCIENCE?
Date
24-27 August 2021
Venue
Göttingen in Numbers
Inhabitats
118.900
Population per km²
1017
Stundents
34.500
Elevation
150m above sea level
Area:
116,89 km²
German Federal State
Lower Saxony
Göttingen: The City of Science – a short history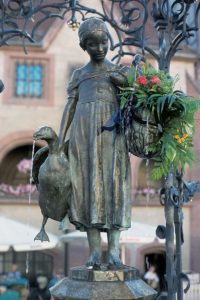 According to the famous poet Heinrich Heine, Göttingen's population is divided into four classes: students, faculty, philistines (the bourgeois), and cattle. However, as you will see for yourself, things have significantly improved over these past 200 years.
The first written record of Göttingen dates from 953 AD, when it was a small hamlet, an even smaller and rather insignificant palace of the medieval German emperors, who did not reign from an established capital but would roam from town to town, resolve regional issues, and then move on. After the imperial palace was destroyed in 1180, Göttingen became a semi-important merchant city for over two hundred years, as well as the seat of its own dukedom. However, for some reason the locals never took a liking to castles. In 1387, they burned down the duke's residence and chased him out of town. From then on, the duke of Göttingen ironically had to reign from Hannoversch-Münden, some 20 miles away, and could not even go near the city.
Shortly after the Lutheran reformation swept Germany in the early 1500s, the city switched to the new denomination and joined a league of Lutheran cities. Unfortunately, this turned out to be a bad move: the city lost much of its importance, and what was left went out the window during the Thirty Years' War that ravaged most of Germany in the 1600s. As in many parts of the country, diseases and battles took a heavy toll and turned Göttingen into a sleepy farming town.
Luckily, King George II Augustus of Hanover – also King of England at the time – chose Göttingen as the seat of his territory's university. The newly-founded university finally opened its gates in 1737. Soon, the city's alma mater attracted renowned faculty from all over Germany, and gained the biggest student body of all European universities at the time (more than 800 students!). Göttingen University has played a central role in Germany's academic life ever since, e.g. in establishing the humanities in the academic curriculum, and in particular with regard to modern science. Niels Bohr, Werner Heisenberg, Otto Hahn, Max Born, James Franck, Carl Friedrich Gauss and Friedrich Wöhler were all faculty members. As a result, Göttingen boasts 45 Nobel Prize winners to date who have either taught or studied here – more than any other place in Europe, and second only to the Massachusetts Institute of Technology. Some major political figures also attended the university, among them Otto von Bismarck and the former German chancellor Gerhard Schröder.
Excerpt from https://www.mpibpc.mpg.de/en